Services
Burlington Sign Installation, Burlington Neon Repair from Burchette Sign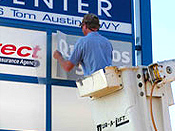 Layout & Design – BSC can take your ideas and apply them to your project in a way that fits your business and your budget. And if you have no ideas, our professional staff in the Arts & Graphics Dept. will design something for you that will make your business stand out above the rest.
Manufacturing – BSC does it's own manufacturing in house. We have a new state of the art facility with all the latest equipment, starting with a Complete Metal Fabricating Dept., AXYZ CNC Router, Sherwin Williams Automotive Paint System, DeVILBISS Spray Booth, Mimaki Large Format Printer, and a Complete Neon Manufacturing Plant. Everything we need to manufacture our products and by taking raw materials and manufacturing from scratch, we can build with less expense and pass the savings on to our customers. We also have a modern graphics department that can handle everything from business hours on your door, interior wall graphics, banners, real estate signs, tags and wraps for vehicles or anything that can be painted can be wrapped. So come by and check us out to see what BSC can do for you.
Installation – Our installation crews are some of the most experienced in the field and handle installs from the ground up. We dig our own foundations, set steel, pour concrete, and use our own equipment to set signs or scale your building no matter how high or large the job is. This way you have no problem with uninsured subcontractors being on your property. Our company is fully Insured, licensed and bonded. This is a must for your protection, so always ask anyone working on your property to verify his or her General Liability & Workman's Comp. Insurance.
Repair Services – When BSC gets a service call we get to your location as quickly as possible, usually within 48 hrs. We offer Emergency Service, that in most cases can be done same day. When we send out a Service Tech he goes out with a state of the art service vehicle that is fully loaded with the largest inventory of top of the line products. Being in business since 1960 we know the best products to use and we have them on our service trucks. The biggest mistake most business owners make is hiring an electrician or a sign company because their hourly rates are cheaper. Then you get an inexperienced service man with a truck with no materials and sometimes no insurance. They end up paying him to run around town looking for materials to make the repair. We know this because they generally come to us to purchase these materials. So you pay our price plus their mark up, not very smart. So call and give us a try and see how simple it is.

CALL US TODAY! 336-996-SIGN