Awnings
Greensboro Awnings & Greensboro Banners from Burchette Sign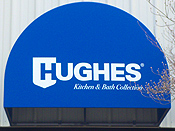 Buchette Sign has been in business since the 1960s. Burchette Sign provides high quality awnings, in the Greensboro area, which are the perfect solution for your patio or deck. Burchette's awnings provide direct relief and comfort allowing you and your family to enjoy the outdoors. All of our awnings can be fixed into position, manually operated via a manual crank system, or by an easy remote control. Our awnings are custom designed to fit your specific requirements. Burchette has an extensive range of fabric options coupled with a plethora of valance designs.
The benefits of adding an awning to your home or office are a plenty:
Adds value – the installation of an awning creates a relaxed outdoor space for all to enjoy. It expands your available entertainment space and increases your enjoyment of the outdoors and backyard cookouts.
Enjoy outdoor living year round – The installation of an awning opens up a multitude of entertainment possibilities and can be enjoyed all year.The awning provides protection from the weather, especially sun and rain.
Reduced Energy Bills – Awnings are one of the easiest ways to save money on your utility bills. The reduction in sunlight and glare on windows greatly reduces the heat produced by 94%.
Sun Protection for the Home – The sun is unforgiving and will quickly leave its mark. An awning reduces UV radiation thus protecting your patio furniture from color fade and siding peeling and fading.
Motorized Handiness – Your awning can be installed with a motorized system that will easily expand or contract with the simple switch of button.
Automatic Sensors –Did you know that new awnings can be installed with weather sensors that can expand and retract the awning according to the weather? Protection even when it's windy.
Color and Style – Due to our extensive assortment, you are only limited by your imagination.
As you can see, Burchette Sign is the only choice for Greensboro Awnings.
Every day the average person is bombarded with 2,000 to 30,000 advertisements. A banner will help your event stand out against the onslaught. It will give your event or business the needed energy in advertising. Events and businesses are all over Greensboro and every one of them will need a banner at some time. Go to the experts in Greensboro.
When it comes time to look for a printer to design and install you a banner, it is important to consider several items, including:
Banner size –Burchette Sign can print banners of nearly every size.
Budget – A banner budget is based on the number of colors, custom logo or text, and the size of the banner. These specifications are important items to consider when putting together your budget.
Needs – Make sure and assess your needs to make sure you're asking for the right banner specifications.
Now that you ready to have Burchette Sign create your one of a kind banner, there are few more items to ponder:
Where is the final location of your banner?
Will your banner be interior or exterior? Sturdier materials need to be used for exterior banners.
What location gives you highest level of viewer traffic?
Will your message be viewable and understandable from a distance?
These are just some of the questions our experienced team will ask to make sure your design is right for the job you need it to do.

CALL US TODAY! 336-996-SIGN