Vehicle Wraps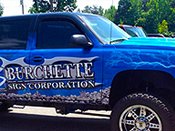 Burchette Sign is a sign and wrap company that delivers first-class high-res car wraps.
Companies in Burlington and Greensboro deserve and expect professionalism. Car Wraps are no exception. Unmatched, when it comes to the impact on marketing, car wraps are the most effective way to reach your local audience. Wraps can be placed on virtually every type and make of vehicle, including: cars, trucks, boats, trailers, and fleets. The average person observes 91% of words and pictures when displayed on vehicles. The exposure from a wrap is higher than a billboard and much less costly. Other forms of advertising are higher per impression. Surprisingly, one vehicle with a good wrap can generate millions of marketing impressions per year!
What is a vehicle wrap, you might ask? A vehicle wrap is defined, generically, as the vinyl graphics applied to a vehicle for the purpose of advertising or to enhance the vehicle's appearance. Wraps can be applied to the complete surface of a vehicle or to just a portion.  Wraps applied via latex-printed or solid color pressure sensitive adhesive vinyl. For further protection, a thin UV laminate is applied over the vinyl.  Wraps are not permanent and can be removed quickly and easily. The life expectancy is five or more years with proper treatment..
Do Not think small. Just putting your company name on your vehicle is not enough. Make it Pop! Make it Memorable! Make you Vehicle Stand Out!  We will custom design a wrap that will do just that but will be an extension of your company's personality.
Facts About Car Wraps:
30k impressions a day in heavy traffic
5600% more effective than radio
7200% more effective than a billboard
252,000% more effective than postcards
Unlike TV, they can't change a channel
Reach commuters on highways, parking lots and streets
Every traffic jam is a marketing opportunity
Reach audiences of all ages, genders, backgrounds, income and professions
Wrap delivers more than 100,000 impressions a month!
What is the most difficult part of a wrap installation? The design process, surprisingly. Our process begins by meeting with you and asking questions to get an idea of what you are looking to convey with your wrap. What colors do you like? What is your target demographic? From there, using the latest techniques and creativity we produce a visual representation of what you're finished wrap will look like. After changes, tweaks, and final approval, we take detailed measurements of your vehicle and start the printing process.
The next step is installation. The design is printed on large manageable panels for ease of installation, all based on the type and size of vehicle.  We only use the highest quality materials insuring your wrap will last. Our installation technique reduces bubbles and wrinkles providing an exceptional look.
Caring for Your Wrap:
Treat it as a brand new paint job.
Wash your vehicle regularly.
Beware of automated car washes.
Never pressures wash your vehicle wrap.

CALL US TODAY! 336-996-SIGN